This is a Sponsored post written by me on behalf of
Astrobrights Papers by Neenah Paper
for
SocialSpark
. All opinions are 100% mine.
School starts here in just a few weeks and we're all excited for the new year to begin. The kids are looking forward to seeing all their friends, meeting their new teachers and learning new subjects. When I was recently given the challenge to "Make Something Astrobright", I knew just who I wanted to make it for ~ the kids' teachers! As a former teacher myself, I know how demanding the job can be. I want the kids' homeroom teachers to get a little something on the first day of school to say thanks in advance for everything they'll do this year.
Check out these cute and very
colorful pencil bouquets...
Won't they look pretty on the teachers' desks? They're bright and very colorful, but practical too! Plus, I think it's a thoughtful little gift without seeming like an over-the-top form of bribery.
These pretty pencil flowers
started with this colorful
Astrobrights paper.
Astrobrights paper comes in 23 bright and vibrant colors. You're sure to find the right color for your pencil bouquet (or any school project) and the bright colors will guarantee that your project will get noticed!
First, we did a little prep work.

..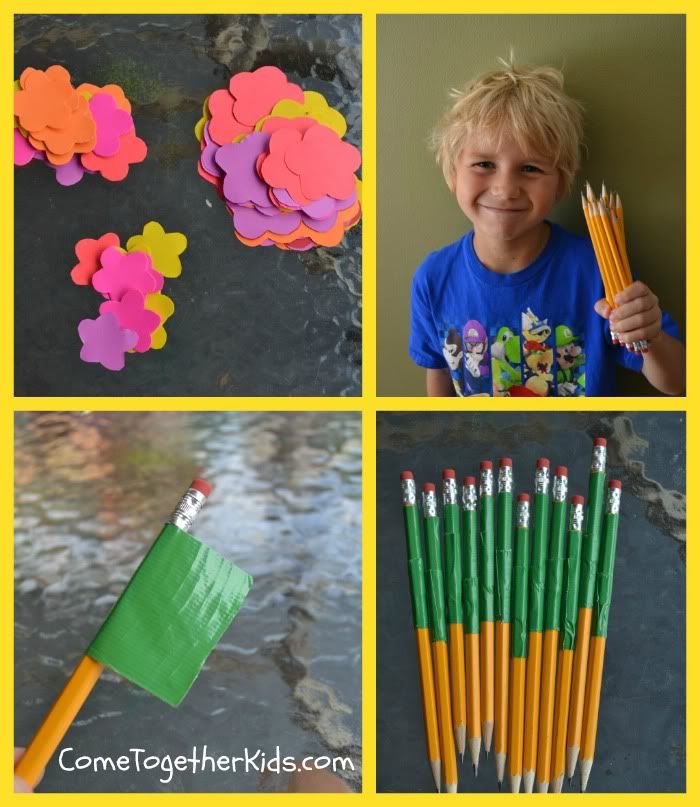 I cut the Astrobrights paper into three different sizes of flower shapes and my son was in charge of pencil sharpening. Then I wrapped the top few inches of each pencil in green duck tape so they'd look more like stems
(but could still be used and sharpened).
Next, we were ready to make
the pencil flowers
for our bouquets...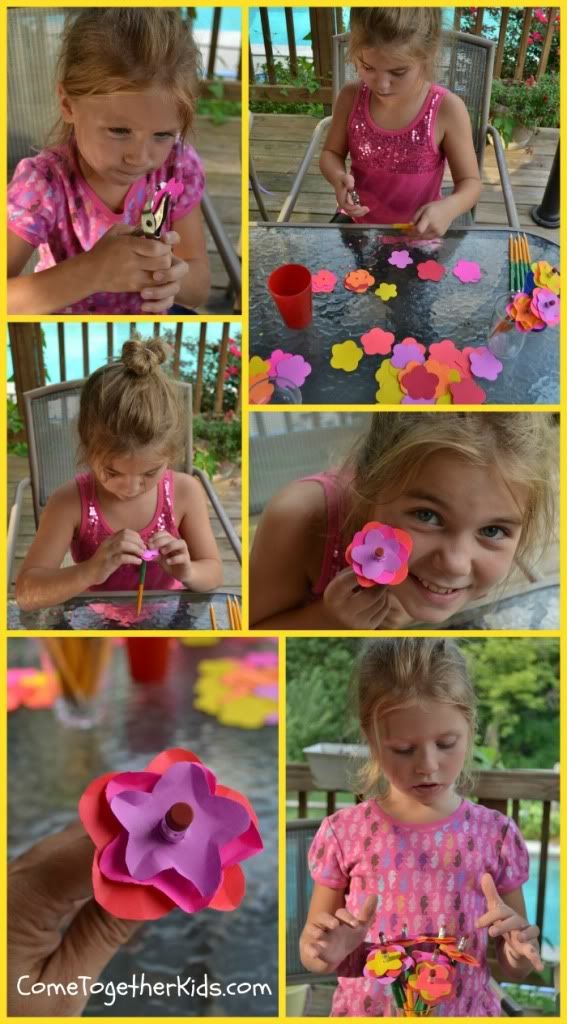 The girls used a hole punch to make holes in the center of each flower, then layered the three different sized flower shapes onto the pencil top. We then pinched each petal to make our flowers a little more three-dimensional and put them into a small vase

(I actually used small juice glasses I'd picked up at the thrift shop).

I love how the different Astrobrights paper combinations made some really colorful and vibrant flowers!
How about you? Are you ready for the new school year? Astrobrights is actually running this great"Give a Brighter Year" sweepstakes where you can win $30,000 in supplies for the school of your choice (and a $500 gift card for you!). Go check it out!
Oh, and check out Astrobrights on Facebookfor lots of great ways you and your family can "Make Something Astrobright"