I'm thrilled to be participating
in the STYROFOAM Brand Foam
Handmade Holidays Series this week
at Under the Table and Dreaming !
I'm even more thrilled to be
included in a list of 25 Talented Bloggers
( I know, I really can't believe it either!)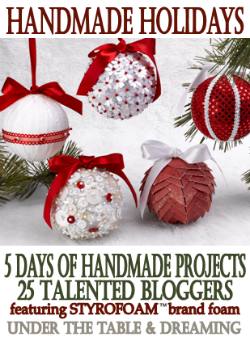 My post is scheduled to be shared this evening,
so click on the banner above to go check out
the great ideas that have been shared already
(by some seriously talented bloggers),
then stop back later on tonight to check out mine.
Here's a tiny sneak peek of our project ...
HINT: It's a fun little way to help answer the question, "How many days until...?"
Check out our project HERE!