A big part of our Sunday afternoons in the Fall is spent watching NFL football. We're proud members of the Steeler Nation
(but we live smack dab in the middle of Ravens Country, literally just minutes from their practice facilities)

. Quite often, when there's a good 4 o'clock game on, we replace our regular family dinner at the table for a bunch of appetizers in front of the TV.

( I figure sometimes the bonding we do in support of our favorite team is just as valuable as the bonding we do at the dinner table.)
Anyway, here is one of my favorite appetizers to make. While I personally don't like actual buffalo wings

(there's something I don't like about meat on the bone)

, I LOVE anything with buffalo wing flavor. This dip is easy to make and really yummy.
I adapted the recipe slightly from THIS one I found on allrecipes.com.
approx. 1+ lbs of cooked chicken, shredded or cubed ( I usually cook 3 fairly large boneless breasts in the crockpot, then cut them up)
2 (8oz) packages of cream cheese, softened (reduced fat works fine, but not fat free)
1 cup ranch dressing (or blue cheese)
3/4 cup hot sauce (you can adjust up or down according to the amount of heat you like)
1 1/2 - 2 cups shredded cheddar cheese
celery sticks, chips or crackers for serving
1. Heat the cooked chicken and hot sauce in a large skillet over medium heat until heated through. I think this step is the key to a yummy dip since the chicken pieces absorb a lot of the hot sauce flavor!
2. Add the two softened bricks of cream cheese and the cup of ranch dressing. Then stir until combined.
3. Add half of the shredded cheddar cheese and stir again until combined.
4. At this point, I usually transfer the dip to my crockpot and top with the remaining shredded cheese. I'll keep it on low or warm and just scoop out some as I want it. I like how the crockpot will keep it nice and warm and ready to eat throughout the game. However, you could also just transfer it to a baking dish, top with the extra cheese, pop it in the oven to melt and then serve it immediately.
And for any other Steelers' fans out there,
let's hope this year we can get our 7th Lombardi Trophy!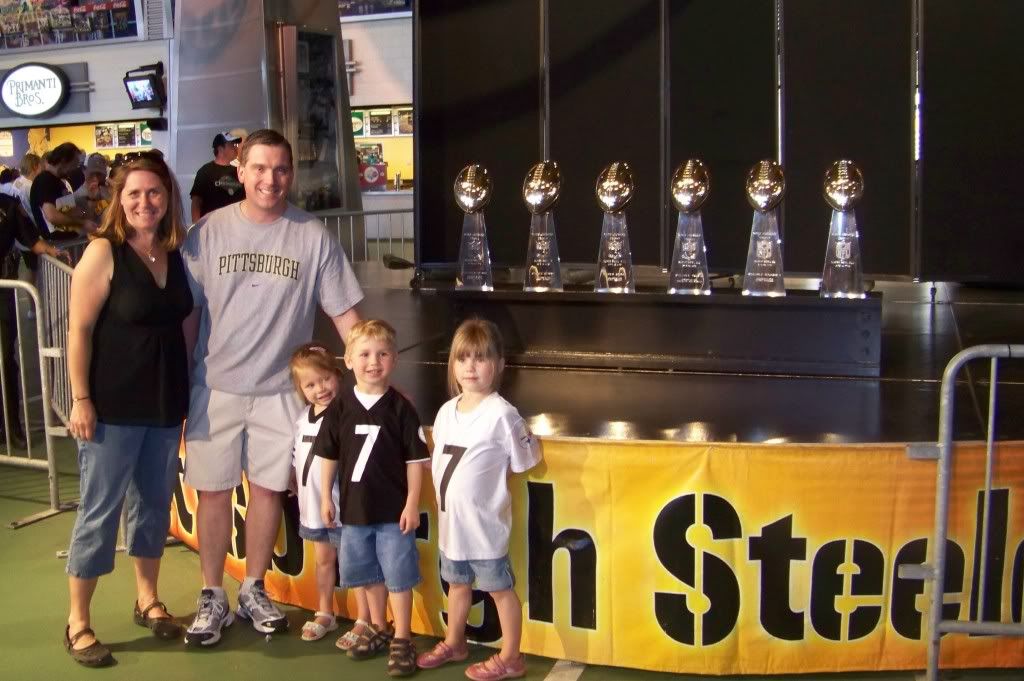 The Come Together Kids' crew at Heinz Field!
Sharing our dippiness at: