This is a Sponsored post written by me on behalf of Scotts® for SocialSpark. All opinions are 100% mine.
We're now on week two of some unseasonably warm weather on the East Coast.  Often here in Maryland, the first day of Spring is chilly, cloudy and damp.  This year, however, the temperatures have been in the 70's and the sun has been shining almost every day.  Not only has this perfect weather quickly pushed aside my normal late-winter blues, but It's also got me thinking about Spring planting several weeks earlier than usual.
You see, every year around Mother's Day, the kids and I usually go to a nearby garden center and pick up some pretty flowers for our hanging baskets and large flower pots  on our back deck.  They love picking out the colorful flowers and they REALLY love getting their hands dirty as we put in the plants in the containers.  With these warm days we've been having, I was inspired to run out and pick up a few early season plants and get a jump start on this year's planting.  Not only can I now look out my back window and see some pretty pansies and snapdragons, but it gave me the chance to try out the new  Expand 'n Gro™ Concentrated Planting Mix by Miracle-Gro®.
I was familiar with the regular Miracle-Gro® plant foods and I'd always been impressed with how great my flowers looked after I used it.  This new product is a little different and is a great alternative to native soil or regular potting mix.  A few of its features...
-Up to 3X the Flowers and Vegetables!* (*versus native soil)
-Significantly improves soil for multiple years
-Concentrated planting mix expands up to 3X when water is added
-Feeds for up to 6 months
-All natural fibers hold up to 50% more water than basic potting soil
It's that last feature that I think will be great for me.  You see, sometimes I forget to water my plants as often as I should.  When we were planting our flowers in the Expand 'n Gro mix, I could see how much water those natural coconut coir fibers absorbed and held.  While I know I won't be able to neglect my plants completely, I'm comforted by the fact that mix will help hold onto the water that I do give them.  That feature, coupled with the Miracle-Gro® plant food that's in the mix, is sure to bring the kids and I gardening success!
Check out this short video clip that explains this new planting mix...
And now look at the fun we had planting with it...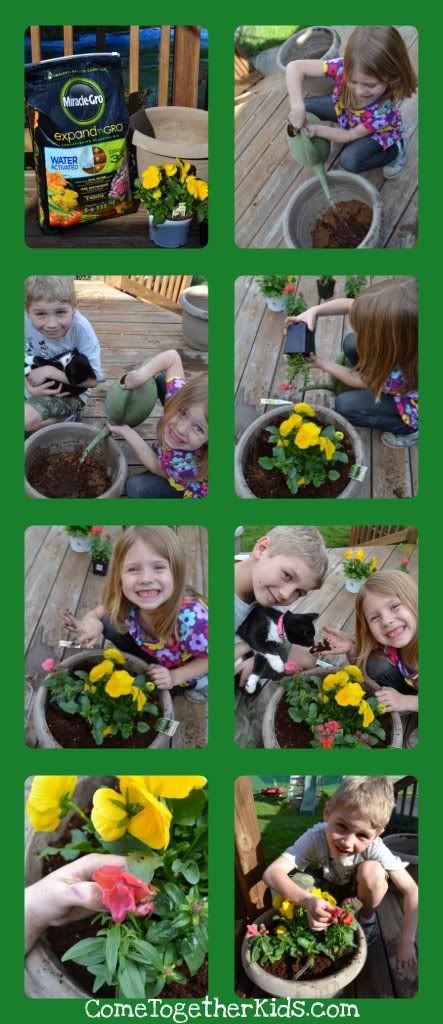 See?  Even our new kitten enjoyed the planting.  Oh, and the snapdragons?  Such fun for the kids!   They're like pretty little flower puppets.  I'm really looking forward to seeing this burst of Spring color now every time I look out my back door.
Do you like gardening  or planting with your kids?   Leave me a comment  (one per person, please) letting me know your favorite thing about gardening and how you would use Expand 'n Gro at your house.  One lucky commenter will be chosen at random to receive a sample size bag of Miracle-Gro® Expand 'n Gro™.